Calumet Model Sailing Group
The Villages, Florida
We are a small group of "sailors", who sail our model sailboats at the Chatham Square Pond next to the Chatham Postal Station.
We are there to casually sail, hone our skills, and socialize. Though we mostly sail Micro Magic boats,
we welcome any type of small radio controlled model sailboat. See "Boats" below.
We are not a "formal" sailing group, and we are not a "racing" group.
Our purpose is to have fun, relax, and enjoy each others' company!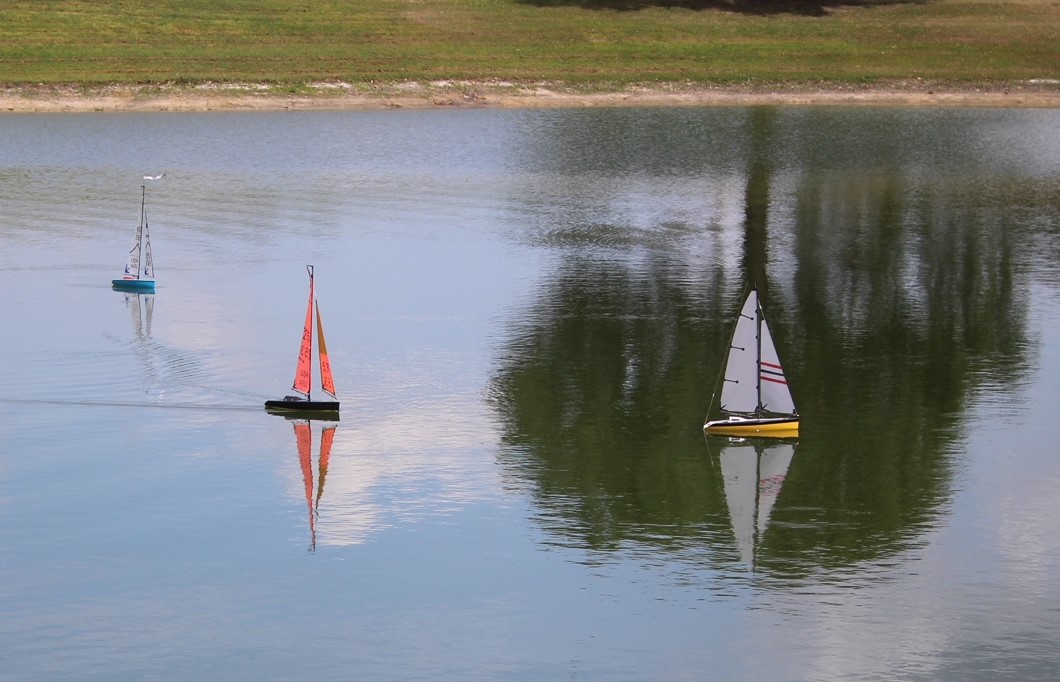 The pond is located in the Village of Calumet Grove, next to the Chatham Postal Station at 7705 Legacy Lane, corner of Calumet Avenue.
We sail Tuesday mornings at 10:30, and Thursday afternoons at 1:30, weather permitting,
Stop by, we'll gladly let you try sailing, or just enjoy watching the boats gracefully sail around the pond!
If you've never sailed before, no problem, we'll teach you. It's easy and fun.
E-mail for information.

Boats
We welcome any type of model sailboat to sail with us. The picture above shows a variety of boats we have sailed.
Model boats can often be found used at reasonable prices either locally or through on-line sites.
We often know of used boats for sale at reasonable prices, just ask!
A couple of sources for new boats are:
MotionRC
and
Twisted Hobbies
.
We are glad to answer your questions as you search for your boat of choice.
The Word
"Calumet"
The word "calumet" comes from the Old French / Late Latin "calamellus".
A "calumet" is defined as a
long,
highly
decorated
(usually
tobacco)
pipe,
used
ceremonially

by Native
North
American
Indians,
especially
as a
token
of
peace, hence the common term "peace pipe".
Our Burgee
A burgee (
bərˈjē), is a
usually triangular or
swallow-tailed
identifying
pennant
of a boating or yacht club.
We are based in the Calumet Grove section of The Villages in Florida, and the burgee represents that.


It has a blue background for the blue skies and water.
A sloop, which is the most common configuration of model sail boats.
And a
"calumet" - "
peace pipe".

Visit our friends at
The Villages Micro Magic Racing Fleet
for those interested in competitive model sailboat racing.
Serviced and provided by Ecumenical Communications
www.ecucomm.ro
Copyright Robert Geckler, all rights reserved 2023